A symphony is an orchestra but an orchestra isn't always a symphony. Similarly, a symphony orchestra and philharmonic are the same but also different. This may seem a little complicated but you know what's not complicated? Building a website for your orchestra. How you say? Well, with Bandzoogle we give you all the tools you need to get your orchestra website up and running with ease.  
In this post we'll go through the most common pages you'll need for your orchestra website design. The first step is to choose from one of our many orchestra website templates then add content from there.
Home
An orchestra is grand and magnificent, so make sure your website gives the same vibe. Using a large header image on the homepage of the whole orchestra makes a great impression. Twin Ports Wind Orchestra has the right idea on their website.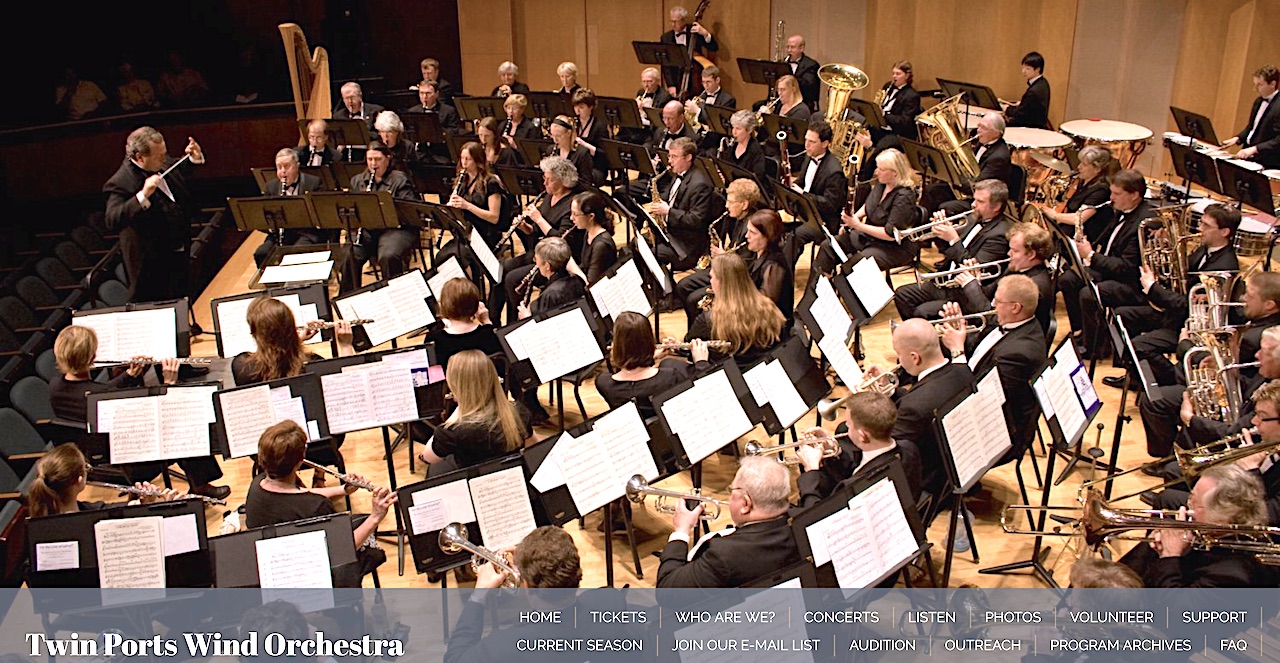 The header image is one of the most important aspects of your website design. If you want to make it stand out even more, consider using a video header. Here's a great example from The Hungarian Film Orchestra.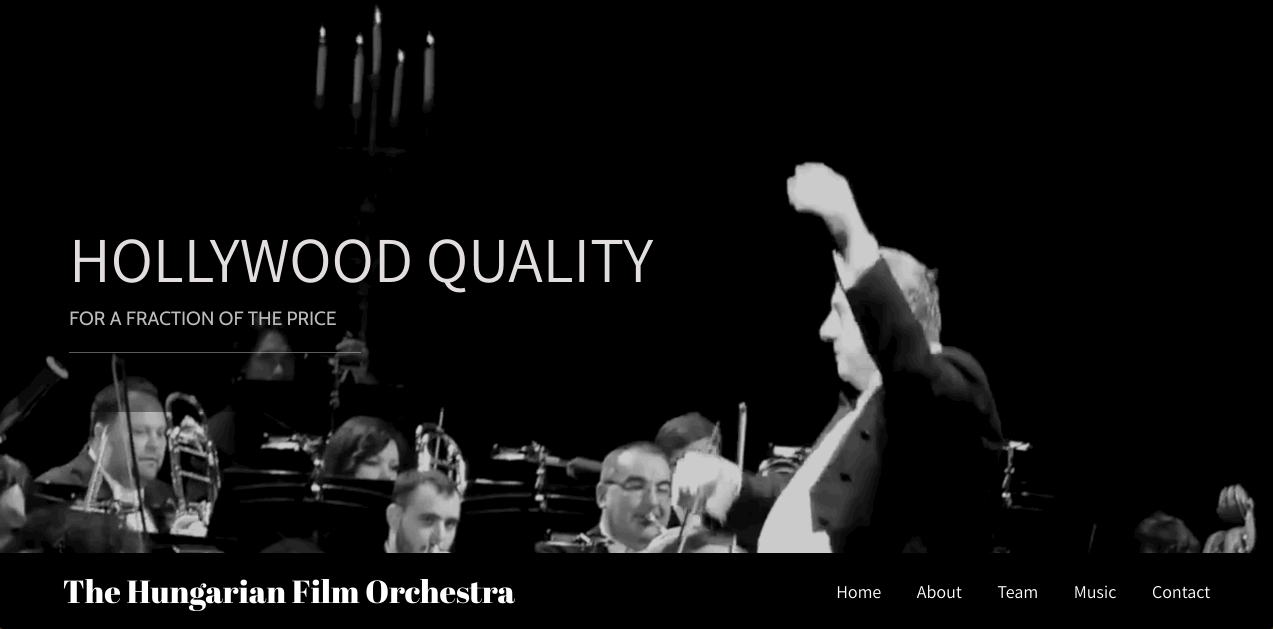 Notice how the movement brings the website to life. It also shows visitors an idea of what it would be like if they came to see your show.
Besides having a dynamic header image, you'll want a few more things on the homepage. This should be a place to put a sample of what's to come on the other pages. You'll add a short biography, some upcoming shows, and latest news. This information will act as a teaser so your visitors will want to explore more of your website.
About
It takes a lot to organize a successful orchestra so let fans know how it all came together. You'll do this with an About page. This should include any orchestra awards or achievements as well.
Because an orchestra is made up of many parts it's a good idea to have an orchestra organization bio, as well as highlight the musicians who make it happen.
One way to achieve this is by using sub-pages like The Sacramento Jazz Orchestra.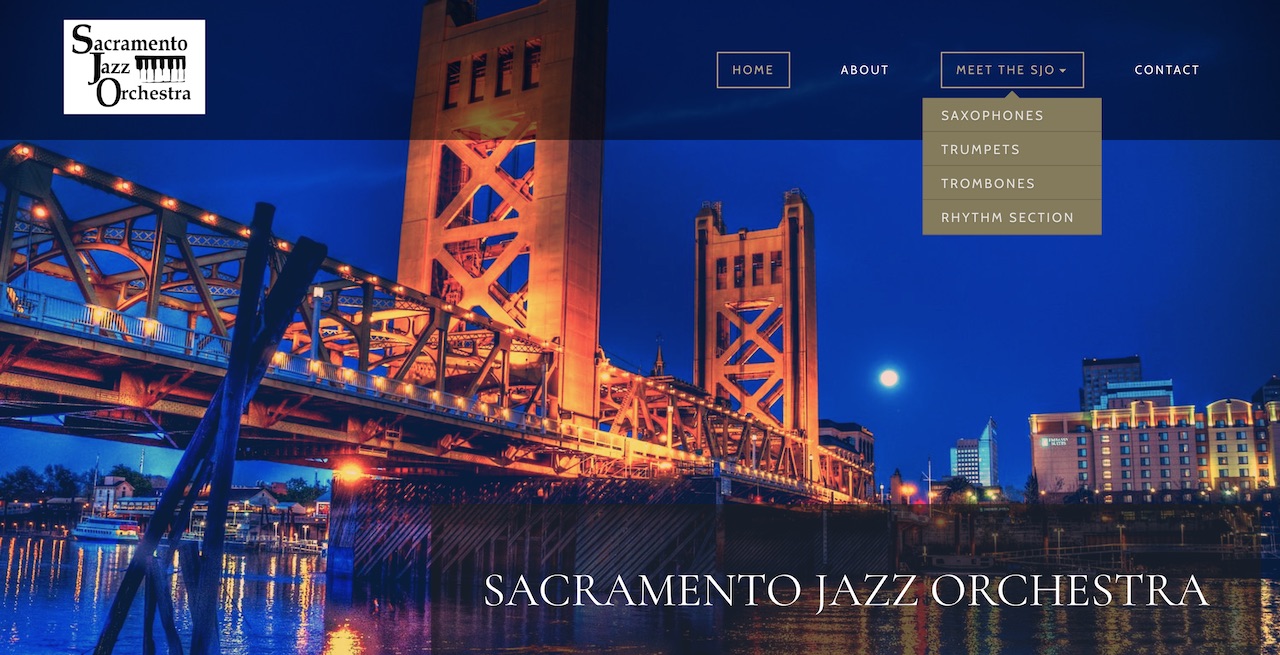 They break up the sub-pages by instrument for easy navigation. When you select an instrument group it takes you to the corresponding page displaying individual bios. This makes each player feel valued and gives fans the inside scoop on who they are listening to.
Music
Next you'll want to make sure fans can hear how great your group is with a music page. Add videos or previous performances or recorded sessions to this page. Stardust Orchestra of Austin uses their music page to display many music samples in this way.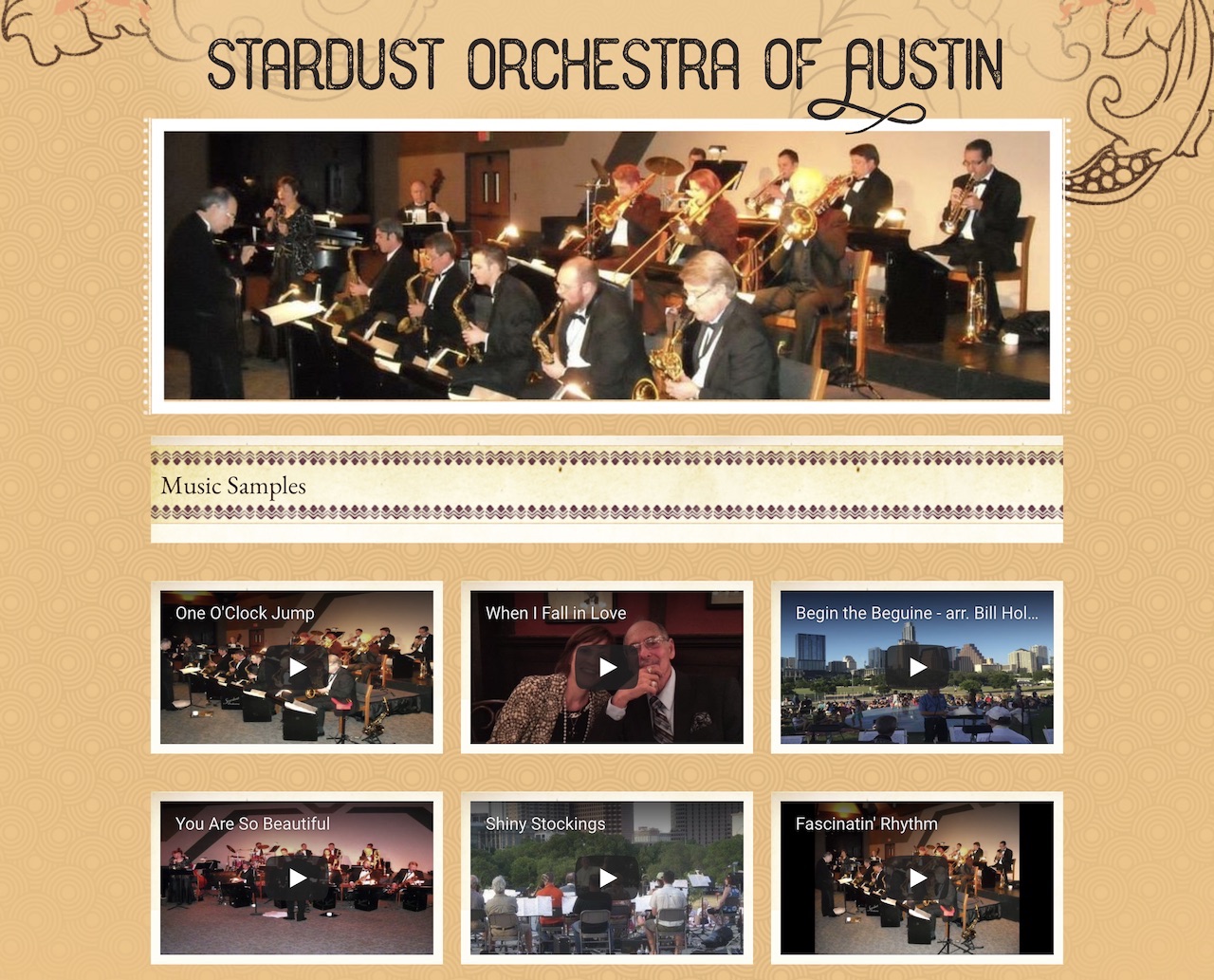 You can easily link YouTube videos to any page. Using video is a great idea because video also ranks well in search engine results.
If you don't have video, you'll want to make sure you have some of your recordings available to stream on your website. You can do this with our built-in music feature. You can set it to stream only, or you can sell your tracks or albums as well.
Build your orchestra website in minutes with all of these features and more. Sign up with Bandzoogle now.
Shows
After fans hear your stuff they'll probably want to come see you live. Set up a shows page like Metro Detroit Jazz Orchestra.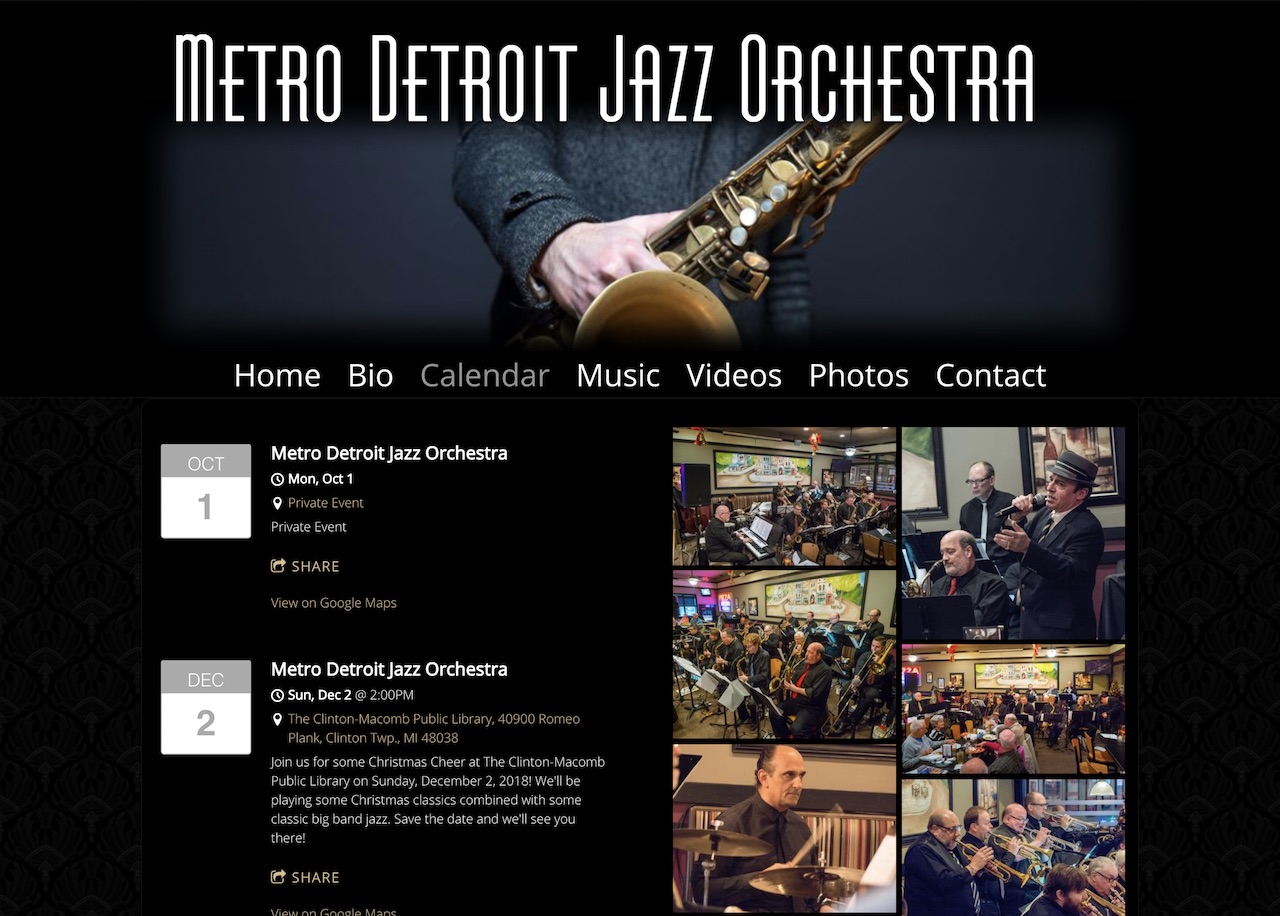 Your shows page will include the date, location, information and pricing. It's also a great idea to add a show poster or image of the venue to each event. In the sidebar place images and videos of previous orchestra performances. This is a great way for people to see what it would be like if they come to a show.
You can also sell tickets right from your website (commission free!). This is a great option since most ticketing agencies charge high fees to both the seller and customer. With Bandzoogle you can sell tickets, track inventory, and print a guest list all from the events feature.
Store
Besides concert tickets, you can sell pretty much anything else you'd like from your website as well. The Electric Squeezebox Orchestra has an awesome store page selling things like CD's, t-shirts, and charts.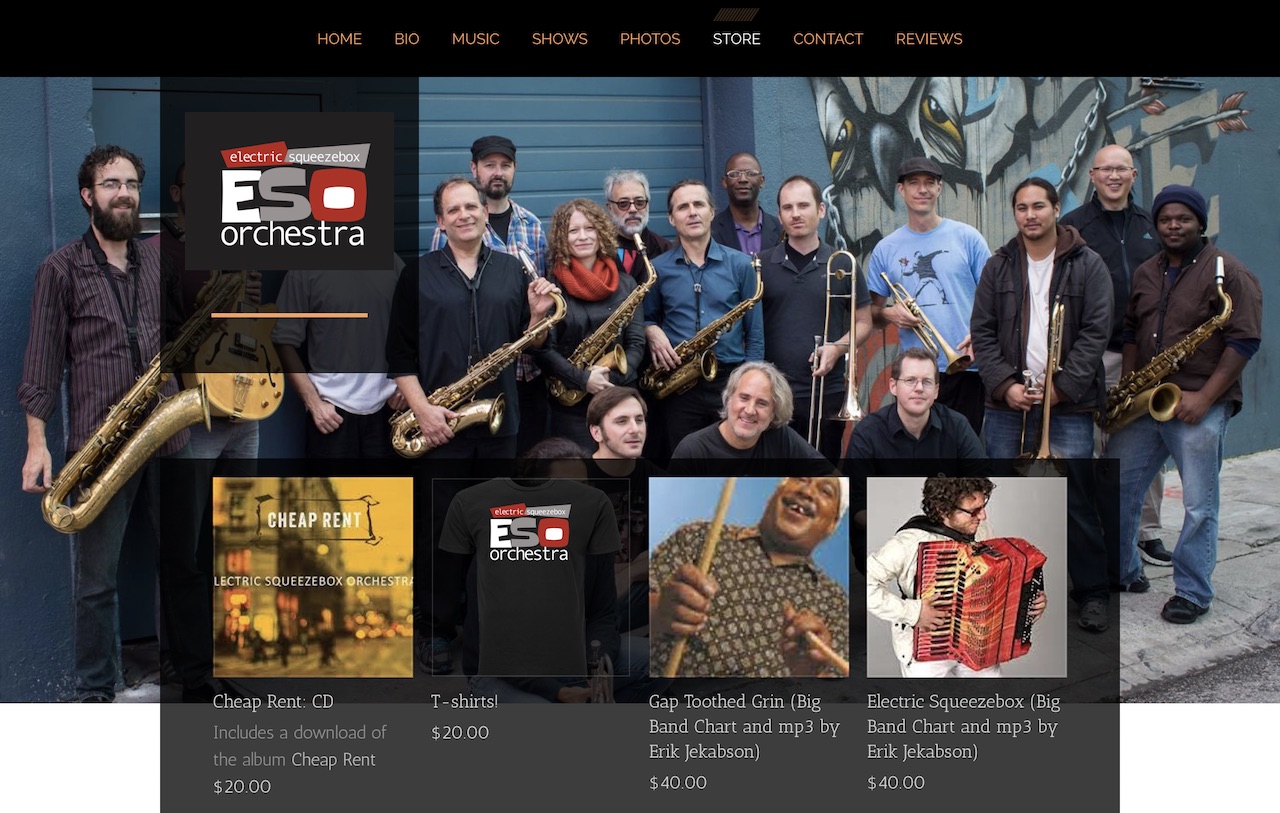 A successful store page will display a detailed description of the product plus a few images to show what the customer will get.
For clothing items you can set options like size and color as well. Our Pro plan also gives you the option of placing items on sale or using discount codes. If you have a limited supply of an item you can track inventory as well. Selling various items is a great way to generate more income for the orchestra.
Press Kit/Contact
The final page on any website is the contact page. This gives visitors an opportunity to get in touch with you for questions, comments, or booking information. It's also important to get visitors on your mailing list so you can stay in touch by email blasts. Adding a mailing list sign up form to the homepage is essential but you'll also want to add one more on the contact page as well.
Because industry professionals and booking agents will be looking at your website, you want to make it easy for them to find what they are looking for. The Vanguard Jazz Orchestra understands this so they've combined all the pertinent information onto a Press/Contact/FAQ page.
[The 8 things that should be in every band's digital press kit]
As long as the page is uncluttered and organized this is a great way to summarize all your other pages.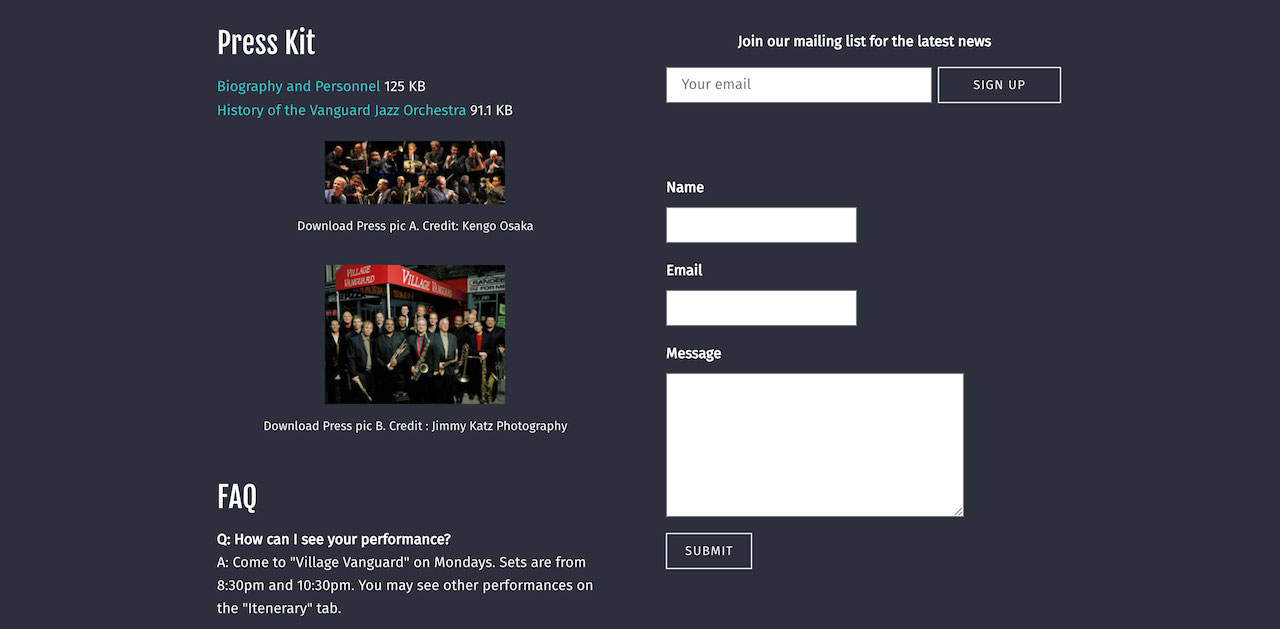 These are the most common pages of an orchestra website, but you can customize your website pages to suit your needs. For more design inspiration, check out our Website Examples page and the Beautiful Website Templates category of our blog.
If you need a little more insight we recommend checking out How to make a website for your music. There's no better time than the present to get started so give it a try now! In no time you'll have a beautiful website setup for your orchestra!
Why not share this with your friends?
Build a stunning band website and store in minutes
Promote your music on your own unique website.
Sell music & merch directly to your fans. Keep 100%.
Grow your fan base with built-in marketing tools.