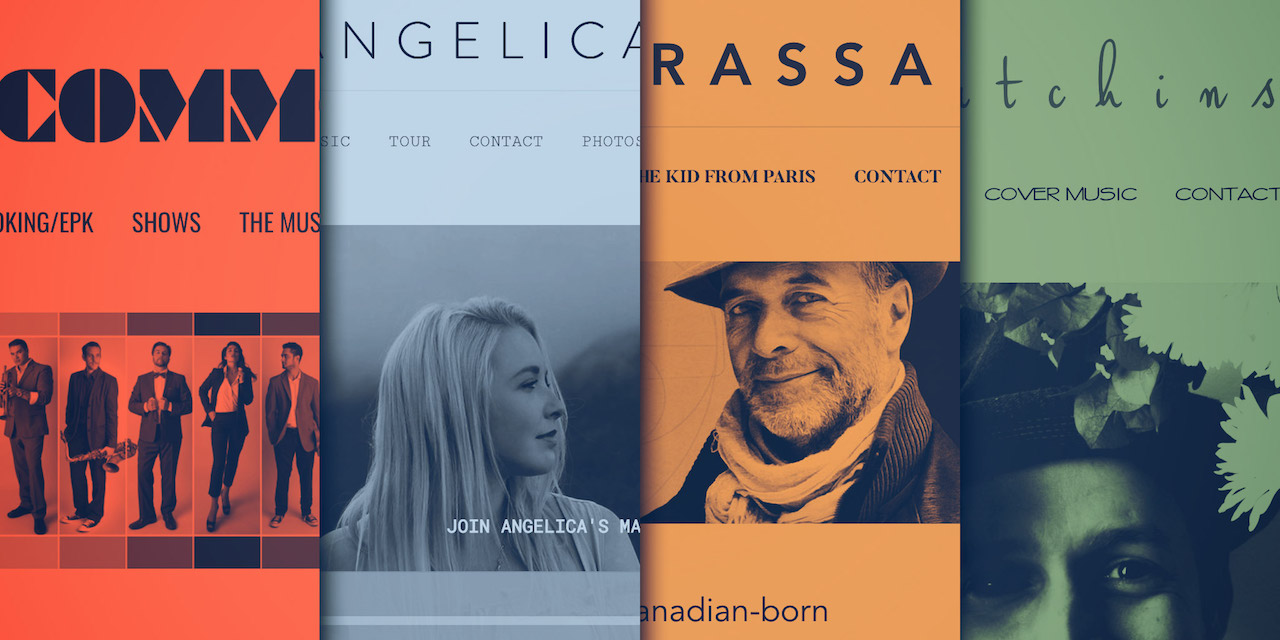 In the music industry, having a good name is important. When fans connect your name and face with your music, you start to create a brand. Branding is an essential part of marketing as it distinguishes you from everyone else.
Branding only works though if you get your name out there. You'll do this by floating through social media, but anchoring to your website.
If you don't have a website yet, don't panic! We have everything you need to easily get one set up. The first step is to choose a template. The one that comes to mind when thinking about having your name stand out is our Beckett template.
In this blog post we'll check out several examples of top musician websites using the Beckett template in distinctive ways. Let's jump in…
Header
The homepage is the most visited page, so you want it to be eye-catching. The Beckett template gives you a nice white space to announce yourself at the top of the page. It follows with a moderate area for a great header image. The two sections work together well to highlight your branding.
EatSleepDrums shows us how it's done by starting with a logo, modern font, and nice subdued header image.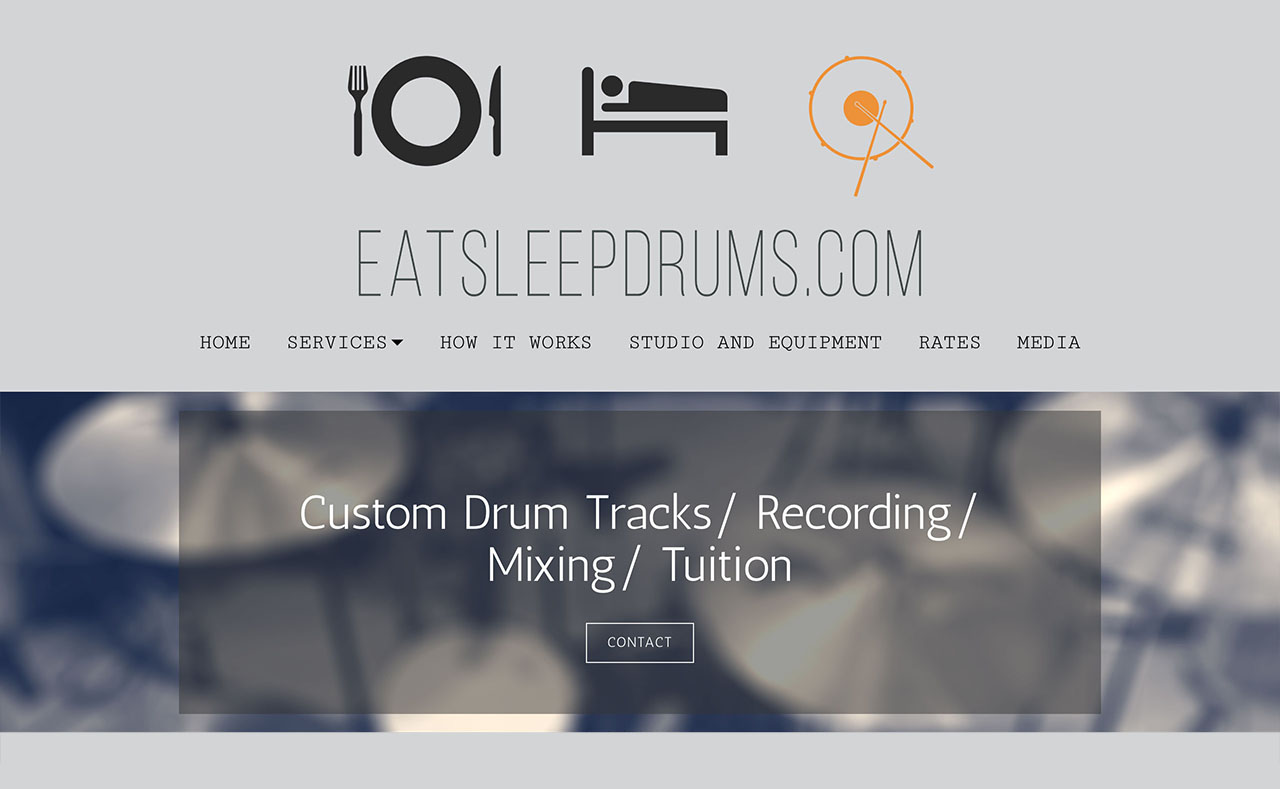 Another essential for the homepage is a call-to-action (CTA). This is the action you'd like visitors to take while on your site. You can ask them to sign up to your mailing list, buy an album, or contact you. A CTA gives fans a way to be active on your website.
Movement
Another way to make a notable header is by adding video. Munich record label, Jazz & Milk, has a fantastic header video.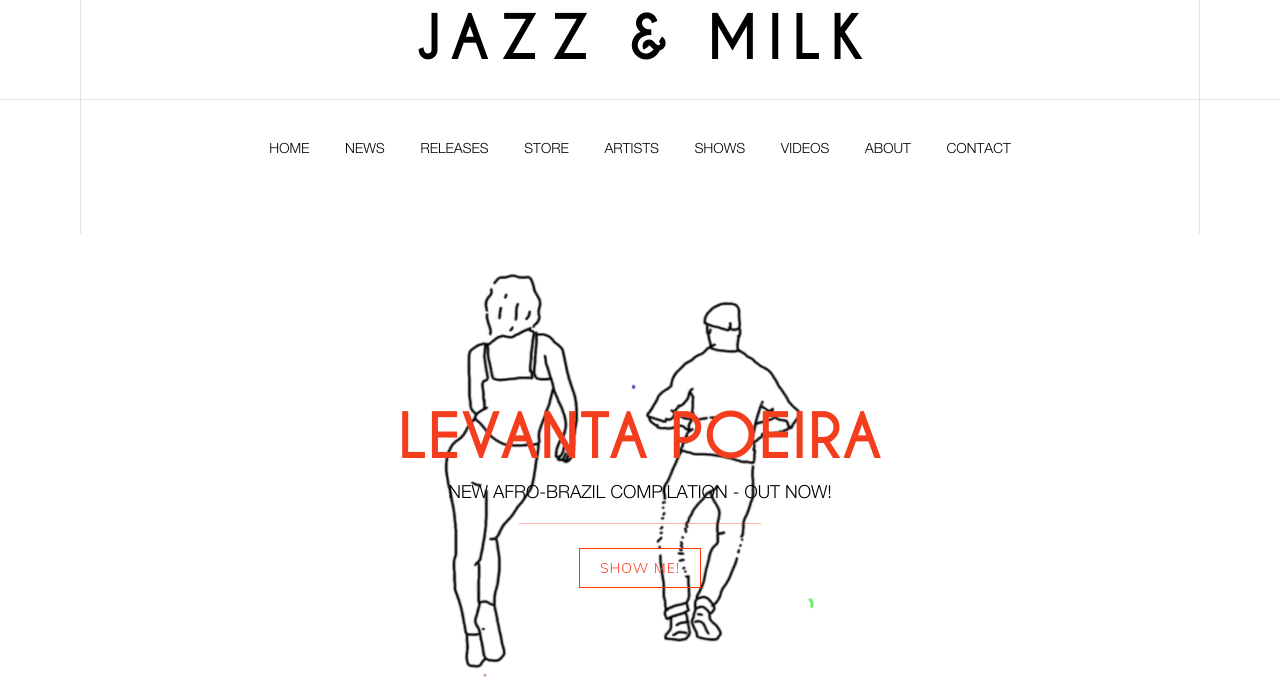 With our video header option you can add any sort of video you'd like. For example, some of our members upload music videos, live performances, and animated clips.  
The video header doesn't play audio, but you can add add full media videos to the content area. With our video feature you can add video to any page on your website. You simply grab the url from YouTube or Vimeo, paste it into our video feature and the video will stream on your website.
Texture
Use a variety of fonts, images, and a logo to create texture on your website. We love what Money Mark has done with his website design.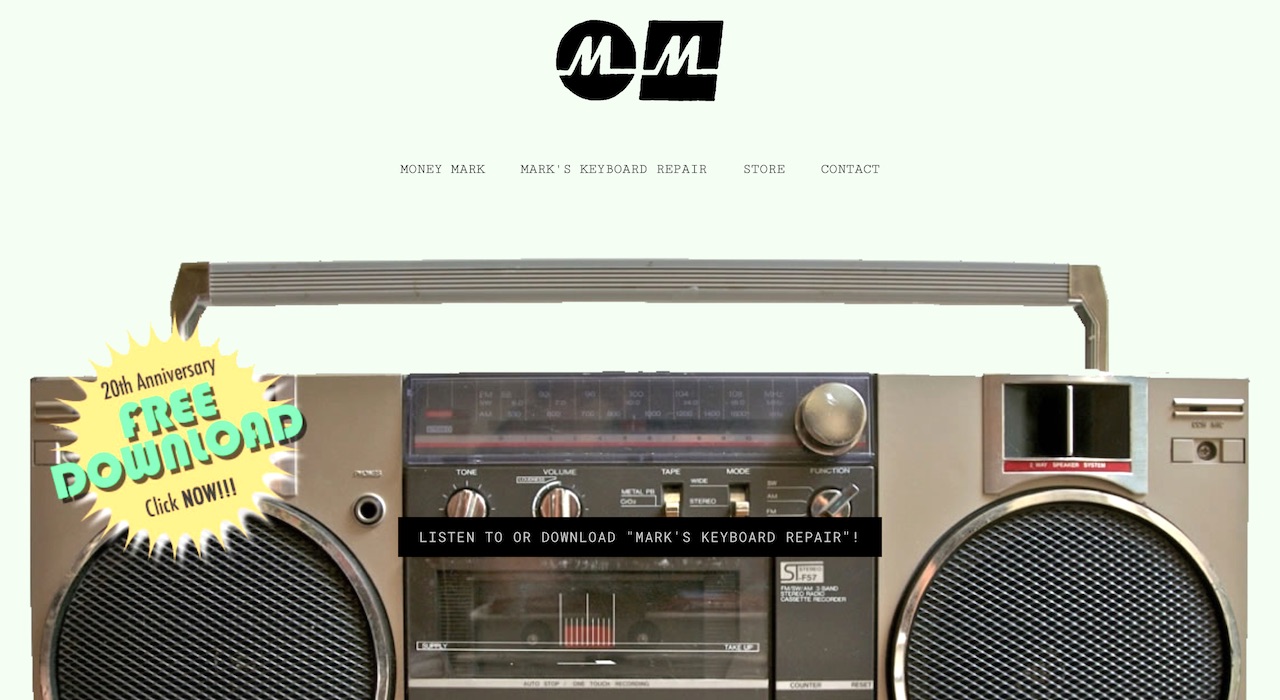 He starts with a retro inspired logo and uses varied font sizes to call attention to certain parts of the page. The real highlight though is the cool old school boombox image. The buttons, switches, and dials add even more texture to the design. It gives dimension to the page and evokes a feeling of nostalgia to the site visitor.
Combination
Many website templates use a header image to fill the top half of a website. The Beckett theme is a bit different in that it accentuates the space above the header image. This is great for band names and logos, but if you want a more subtle look consider using a logo/image combination. The Commotions Band does this with style.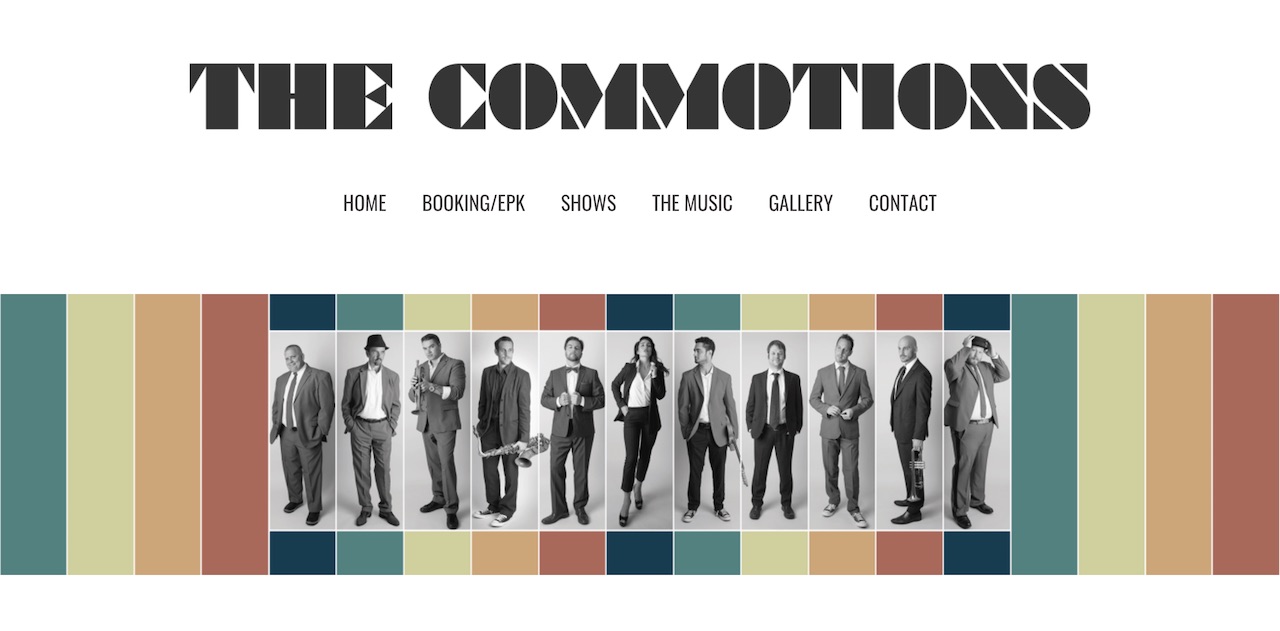 Being a funk/jazz band they use a fun font style for their name. The menu uses a clean sans serif font which acts as a bit of a divider for the header image.
They've done something clever with their header image. They use black and white photos of the 12-members but surround them with lots of color. The combination of color, font and layout makes this website look professional and fun.
Blend
The Beckett template was designed to make a clear designation between the name section and the header image, but what if you want it more blended? No problem. Take a look at the nice fusion of black and white from rock band, Hazer.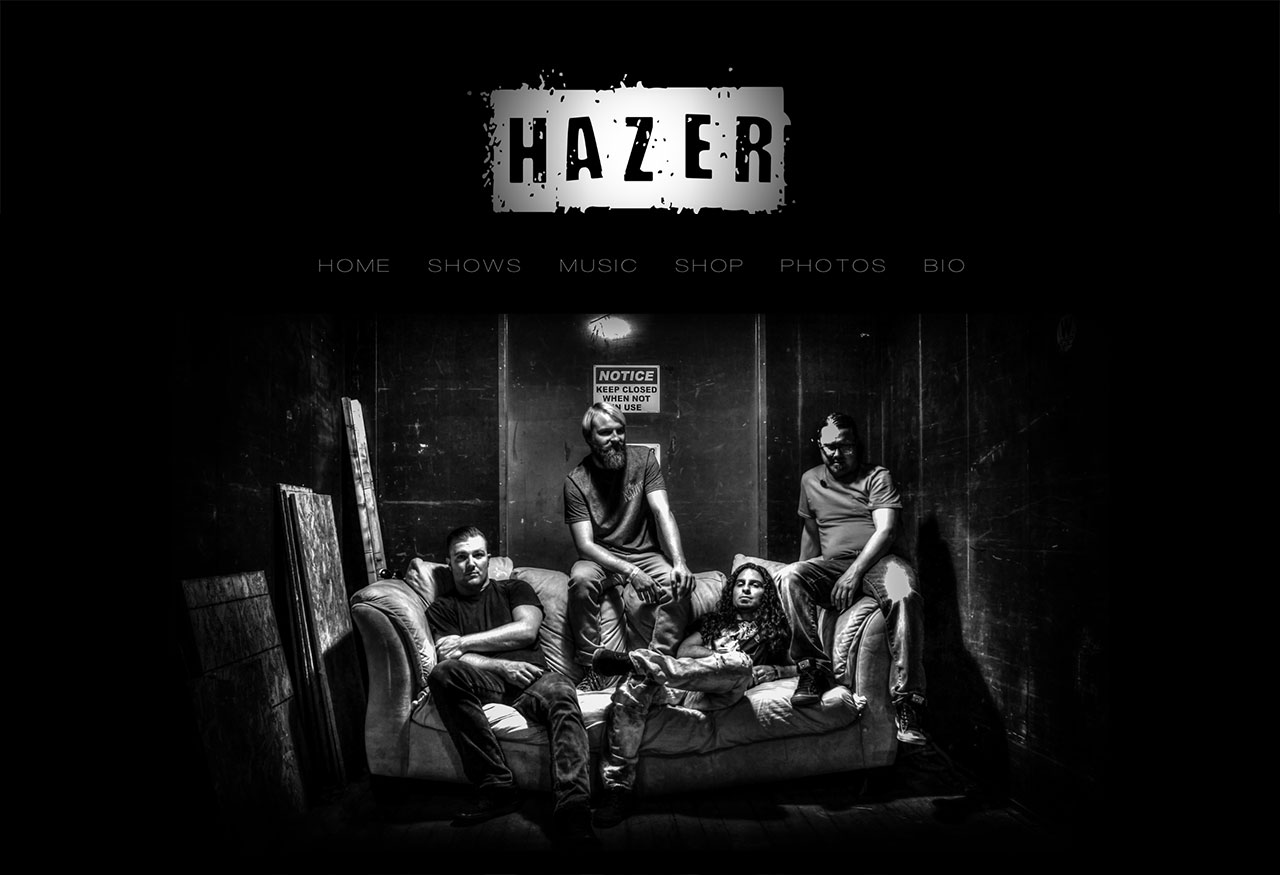 With the theme editor you can set both the background color and header section color to match. Then use an image with feathered edges of the same color and it will give you a blended look.
They make their logo stand out by using a lighter background and decorative font style. These subtle touches makes everything on the page come together nicely.
Create your own stylish, mobile-ready website with the Beckett template in minutes. Try Bandzoogle free today!
Style
If you have a bit of photo editing skills you can get even more creative with your header image. Music producer, Intempus, does an awesome job with this.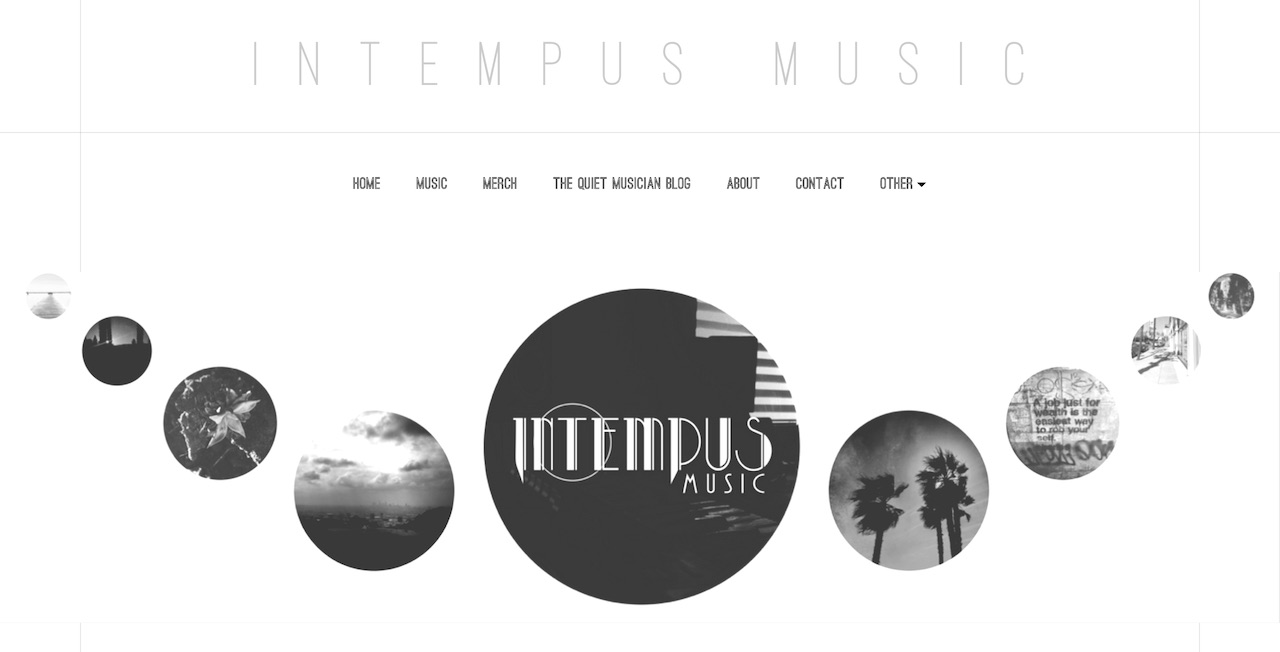 Starting with the homepage, he uses photo bubbles in different sizes in the header space. He keeps everything consistent by using this same look on the other pages also. If you navigate his website you'll notice he weaves the circles throughout the store and blog as well. This systematic method is what branding is all about. The predictability gives fans a way to recognize you wherever you are online.
Simplicity
The Beckett theme is also a good choice if you want to keep it simple. Take a look at the website for country singer, Angelica Robinson.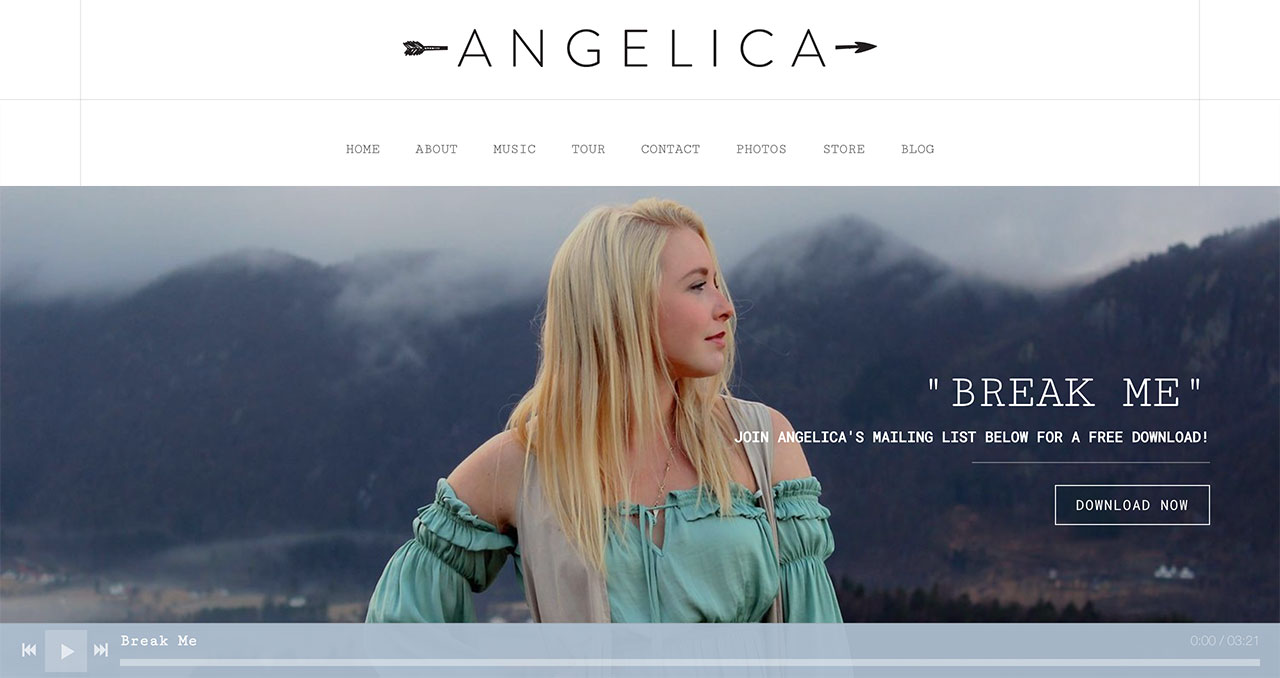 She begins with a stylish custom logo, straightforward menu, followed by a beautiful header photo. The rest of the homepage is uncluttered and organized.
She uses a soft blue to highlight the sitewide music player at the bottom of the page. This player continues to play as a visitor navigates her pages. Using the minimal approach helps fans focus on what content is most relevant to you.
[How to get more music plays on your website]
Color
A good color palette for your website can really make a difference. The first step is to determine a primary color then use a color wheel to select complementary colors. This will create a pleasant aesthetic for your visitors. Singer-Songwriter, Jean Brassard, uses neutral colors for the majority of his website with accents in red.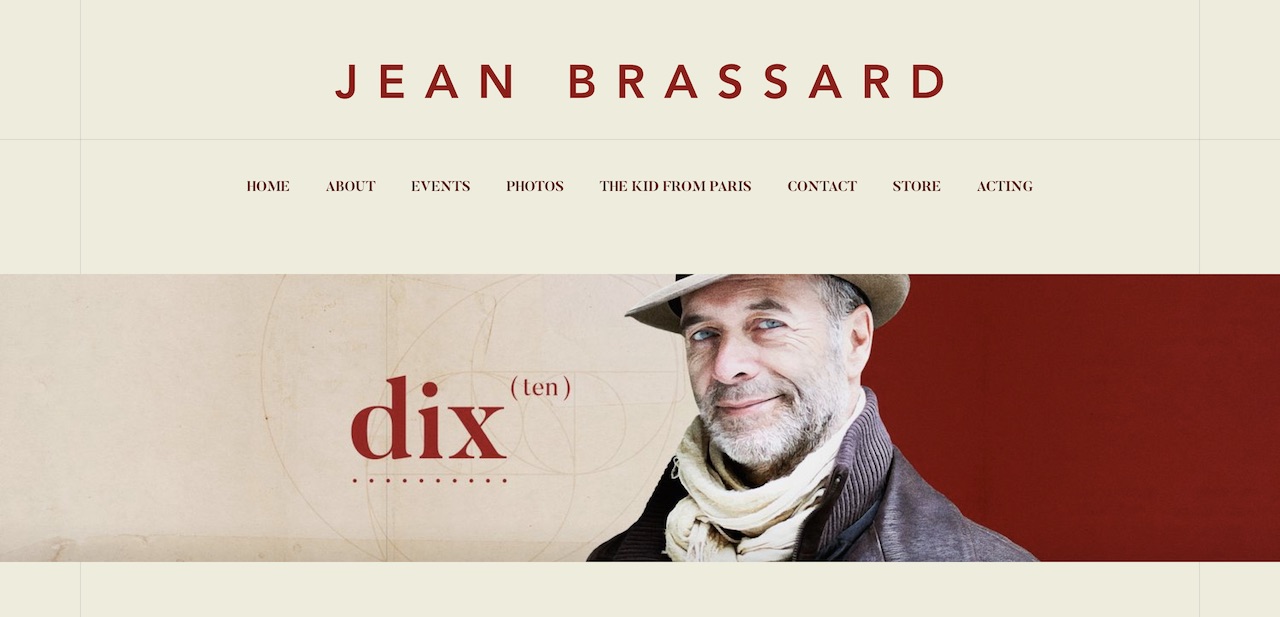 The Beckett template makes great use of white space but you don't have to stick with white! Play around with different colors and make each section stand out.
Sections
The Beckett template is naturally set up for sections in the header, but you can also weave sections throughout the content area as well. Folk/Rock singer Licity Collins has a good example on her homepage.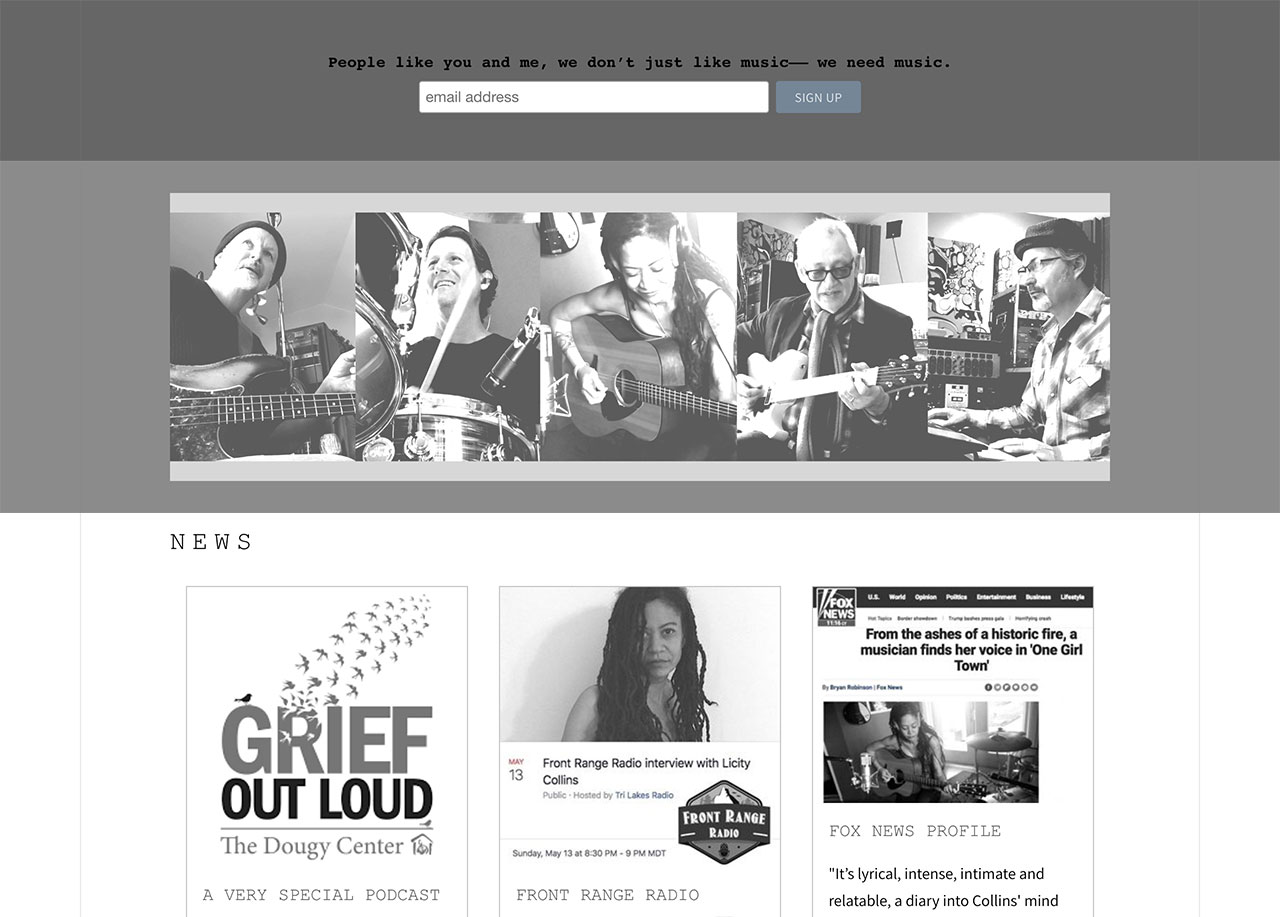 She uses grayscale to vary each section on the page. With our styled sections you can add color or an image to each content section. With so many options your site can look different from any other.
These are just a few of the many members using our Beckett template. For more inspiration we recommend checking out our blog and examples page as well. If you're looking for a top musician website design, the Beckett template is a solid choice. It gives you many custom options to create a great looking musician website!
Want even more design options? Check out our top 16 website templates for musicians and bands
Why not share this with your friends?
Build a stunning band website and store in minutes
Promote your music on your own unique website.
Sell music & merch directly to your fans. Keep 100%.
Grow your fan base with built-in marketing tools.